North Yorkshire County Council offers  level 1 and 2 Bikeability http://bikeability.dft.gov.uk/ courses to all year 5 and 6 pupils via Primary schools.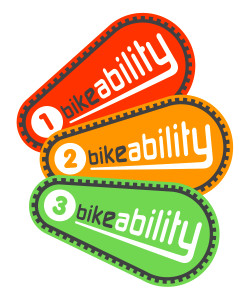 Training takes place on local streets, giving pupils a real cycling experience. Once Bikeability Level 2 has been completed and pupils have been awarded an orange badge, they will be able to:
Start and finish a journey by road, including passing parked or slower moving vehicles and side roads
Make a u-turn
Identify and react to hazards in the road
Signal intentions to other road users when needed
Understand where to ride on the road
Use junctions, including turning left and right into major and minor roads
Decide whether to use cycle lanes
Use the Highway Code, particularly when it comes to understanding road signs
Adults and older children can also take Level 3 training to develop urban riding skills using private instructors http://www.ctc.org.uk/training/cycling-instructors.
Once you've completed your Bikeability Level 3 and been awarded your green badge, you'll be able to cycle almost anywhere, and:
Make a trip to school, work or elsewhere on any roads
Use complex junctions and road features such as roundabouts, multi-lane roads and traffic lights
Understand driver blind spots
Know how (and when) to pass queuing traffic
Identify and react to hazardous road surfaces
Plan your route
Interpret road signs
If you are interested in becoming a cycling instructor for North Yorkshire County Council or would like to book Bikeability courses, please contact us at road.safety@northyorks.gov.uk