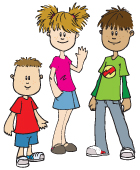 Sam, Lucy and Levi are on a mission to spread the road safety message and they need your help.
Their challenge is to sign up 200 road safety whizz kids who can spread road safety messages to other children.
Every whizz kid will be awarded a special certificate.
To become a road safety whizz kid you need to learn all about road safety by exploring the different areas of this website.
Walk-Wise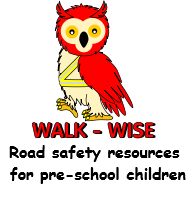 Walk-Wise provides Early Years Practitioners with an effective way to teach young children about road safety.
Each Walk-Wise theme is based around a story which creates lots of opportunity to talk about road safety.  Additional resources are provided which are both interactive and child friendly.  These include small world play, role play and creative activities.
The stories and activities have been created to appeal to young children.  The illustrations are simple, engaging, bright and promote language.  Through using these resources children will be able to learn about keeping safe on the roads.
The resources have been planned using the Development Matters in the Early Years Foundation Stage. They are based upon the principles and characteristics of effective learning relating to:
Playing and exploring
Active Learning
Creating and thinking critically
For downloadable resources visit http://www.walkwisekids.org/