Due to North Yorkshire's rural nature it's not unusual to spot horse riders out on the roads.
With around 149 accidents involving horses on our roads every year, and over 50 percent of these happening on minor rural roads, both riders and motorists need to be aware of their responsibilities on the roads.
Riding your horse (children)
Horse riding is lots of fun but it can be dangerous.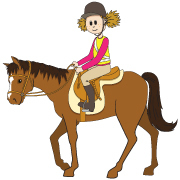 Make sure you stay safe when riding your horse by:
Riding a horse that you can control
Making sure that your horse is properly shod and the saddle and bridle are correctly adjusted
Wearing an approved safety helmet
Wearing boots or shoes with hard soles and heels
Walking between the horse and the traffic when leading your horse
Wearing fluorescent clothing during the day and reflective clothing when it starts to get dark so that you can be seen by other road users.
Riding at night can be very dangerous so you should stick to riding during the day. If you do have to ride at night you should fit a safety light to the offside stirrup, showing white to the front and red to the rear.
For more information visit the British Horse Society website or contact us with your questions
www.horseaccidents.org.uk/Advice_and_Prevention/Riding_on_the_Road.aspx
Further information also available from the Pony Club
www.pcuk.org/index.php/tests_and_achievements/efficiency_tests/road_rider_test/