Cycling is a great way to get around but some of the roads in North Yorkshire can be challenging. Even if you are being really careful, drivers of other vehicles might not be paying attention; they might be on the phone, eating or drinking or being distracted by passengers. There are a lot of things you can do to keep you safe on the road and get the most out of your ride. Before setting off, make sure ;
Your bike is ready and will last the journey, any problems you have will only get worse, pay attention the brakes, you will need them, there are some very long decents in the county.
Layer clothing, make sure it is wind and waterproof – tops of hills can be exposed even in summer and if you break down or need to stop for any length of time, you can become cold very quickly.
You have enough food and water to last the journey
If you are riding alone make sure someone knows where you are and when you will be back, let them know if you change your route.
Dont ride with headphones, so you can hear traffic before you see it.
Respect the challenge and know your limits.
When you are out, keep the following tips in mind.
Wear something bright and always be concious you might not be seen. Consider adding a rear light and just leave it flashing, dull and rainy days make it difficult for other road users to see you.
Keep your fuel and water levels topped up to keep you alert, as energy levels drop, fatigue sets in and you will find it harder to concentrate, especially towards the end of a ride
Stay foccussed on decents
Split large groups up into small groups. This allows faster road users the space to overtake and reduces the risk of collisions.
Although riding 2 abreast can be more social, Highway Code rule 66 states that you should ride single file on narrow & bendy roads, and also on busy roads. So when it gets twisty, single out to make it easier for traffic to pass slowly & safely.
Be aware of other road users, especially in rural areas.  The main routes are also used for a lot of agricultural business, so it may be necessary to stop in a safe place and allow traffic to pass, especially tractors & trailers and large milk tankers and aggregate lorries.
Download our tips leaflet by clicking the pictures below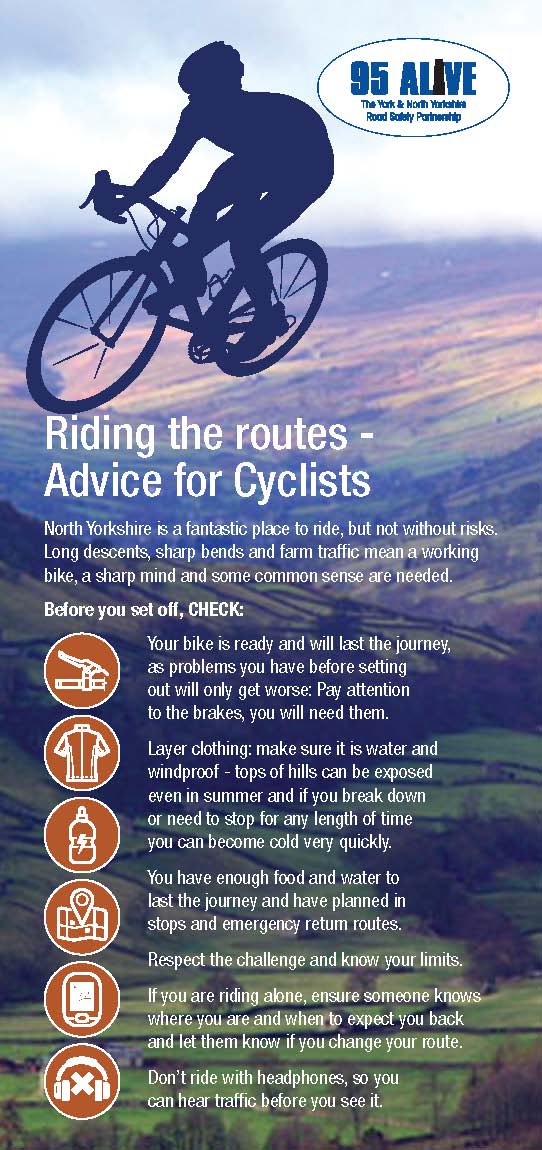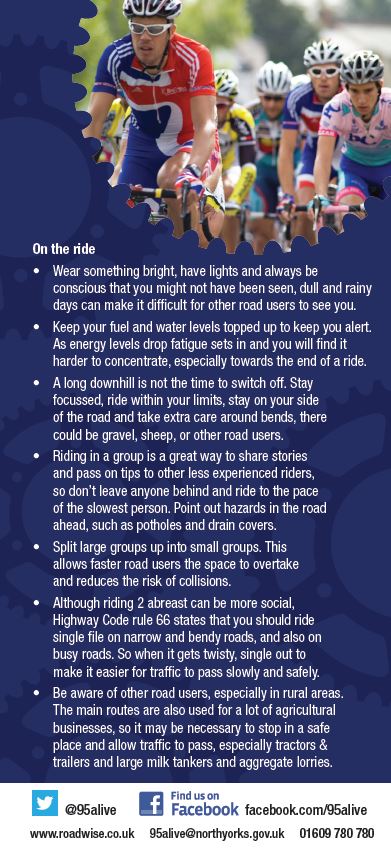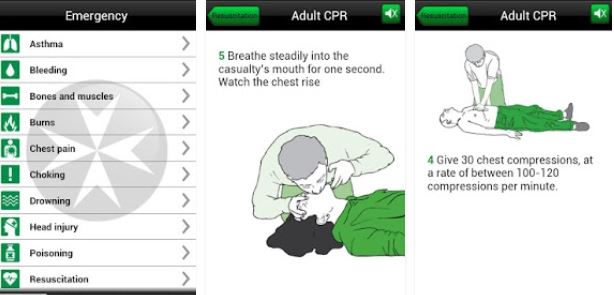 St Johns Ambulance have produced an App to help cyclists deal with the most common cycling injuries, should someone fall from their bike. Click to go to the page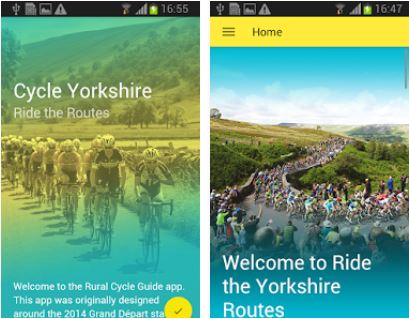 If you are planning to ride the Tour routes, have a look at our app that provides in depth information and videos about the more challenging sections of the routes.Download the Ride the Routes cycle app by clicking on the picture
Ridesmart Videos
Below are a collection of short videos to help you be ready on the road, from checking your bike, to riding on the road safely.
Riding on the road safely
How to deal with hazards on the road
How to ride safely in a group
How to prepare your bike for a journey