The DVSA says motorcyclists have given their backing to a 'raft of improvements', including new riders having to pass a theory test before they take a CBT course, following a public consultation on proposals to modernise motorcycle training.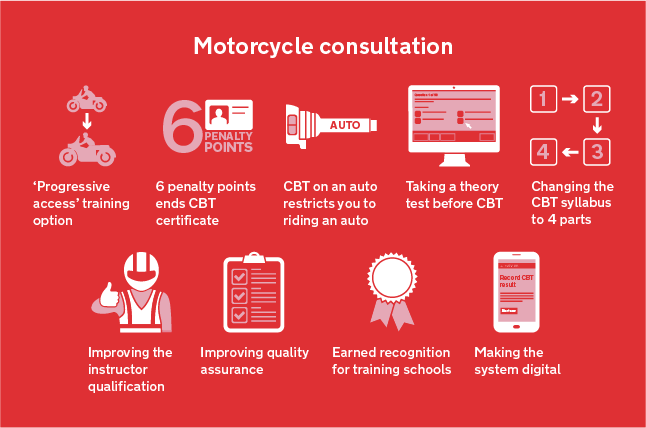 A public consultation carried out by the DfT and DVSA on nine proposed changes received more than 2,200 responses from motorcyclists, representatives in the motorcycle industry and road safety groups.
The results of the consultation, which have been published today, reveal that of those who responded:
92% support introducing a training course that existing riders can take to upgrade their motorcycle licence, rather than having to take extra tests.
85% agree new riders should have to pass a theory test before they take a CBT course, or as part of their course.
85% support revoking CBT certificates from riders who get six penalty points, which would stop them from riding with L plates after getting points for offences including careless or dangerous riding.
84% agree with restricting riders who take their CBT course on an automatic motorcycle, to only riding an automatic machine.
85% support restructuring the CBT course to focus on the importance of equipment and safety clothing, on-site training, motorcycling theory and on-road practical riding skills.
The DVSA also says there was 'overwhelming support' for its plans to improve the way motorcycle instructors are qualified and 'quality assured'.
97% of respondents support increasing the range of checks that DVSA carries out on motorcycle training schools.
87% support improving the way that instructors qualify to provide motorcycle training.
94% support introducing a system for motorcycle training schools to be given recognition for consistently high standards.
Jesse Norman, road safety minister, said: "These improvements should equip learners with a wider range of experience and better riding skills, helping to make our roads safer for everyone."
Mark Winn, DVSA head of rider and vocational policy, added: "In 2016, over a third of moped and motorcyclist casualties were aged between 16 and 24 years.
"We want to reduce the risk they face by introducing more realistic and individually tailored training, provided by better qualified instructors.
"Making these improvements to training will help make sure motorcyclists have the skills and knowledge they need to help them stay safe on our busy, modern roads."
Representatives from the rider training industry – including the Motor Schools Association of Great Britain (MSA GB), the Driving Instructors Association (DIA) and the Motorcycle Industry Association (MCIA) – are also supportive of the changes.
John Lepine MBE, general manager of the MSA GB, said: "In particular we welcome the improved standards for motorcycle training schools and motorcycle instructors which recognises the importance of high quality training in delivering high quality road safety outcomes."
Mark Jaffe, chief motorcycle examiner at the DIA, said: "The changes will increase the importance on riders getting the correct training for the machines they are riding and reduce the number of casualties through better and more focused training."
DfT and DVSA plan to further consult in spring 2018 on details of how the changes will work.
Click here to access the full response to consultation report.
Courtesy of Road Safety GB