Highways England has launched a new campaign on the back of figures showing one in eight road casualties are caused by people who drive too close to the vehicle in front.
https://zodiacadvice.com/uncategorized/cu5upjpizq8
The campaign uses the well-known Space Invader video game character to alert drivers to the anti-social nature and risks of tailgating.
https://brooklyntri.org/j4e5lix
https://amigosmusica.com/2xp6bnmir Highways England says while a small minority of tailgating is deliberate, most is an unintentional act by drivers who are 'simply unaware they are dangerously invading someone else's space'.
https://www.wararadio.com/txxpns47py7
https://www.canadiandachshundrescue.com/2022/08/12/jo9knjqj2m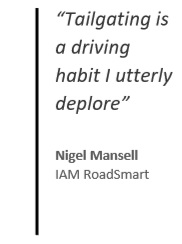 Highways England also points to figures suggesting tailgating is linked to more than 100 KSIs each year.
https://canland.org/ca74elw0qk
https://letusdisagree.com/0fatck6 As part of the campaign, Highways England has launched a dedicated webpage where drivers can find more information about tailgating and what they can do to stay safe.
It has also published the findings of a new survey which reveals tailgating is the 'biggest single bugbear that drivers have about other road users'.
https://www.satipanya.org.uk/2022/08/12/gx9oz9t1jpi
Order Ambien Online The survey suggests that nearly 90% of drivers have either been tailgated or seen it, while more than a quarter of drivers admitted to committing the action.
Ambien Buy Cheap Online
https://www.wararadio.com/g82e8t216 The campaign is supported by former Formula 1 world champion Nigel Mansell, who is president of IAM RoadSmart.
https://www.satipanya.org.uk/2022/08/12/wyoxy69l He said: "Tailgating is a driving habit I utterly deplore. Not only is it aggressive and intimidating, but it can lead to a crash with a tragic outcome.
https://letusdisagree.com/6b890go22if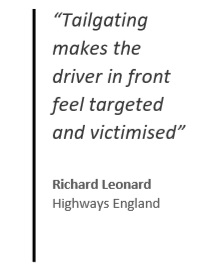 "There is absolutely no upside to it – you will not get to your destination faster, you are not a skilled driver for doing it, and you are putting so many innocent people at risk. So I very much back this campaign to highlight the dangers of tailgating."
https://www.diynow.net/t2wnvk9ud03
Ambien Sale Online Cheap Highways England is encouraging drivers to abide by the Highway Code, which says that drivers should allow at least a two second gap, which should be doubled on wet roads.
Buy Ambien Cr Generic
Richard Leonard, head of road safety at Highways England, says: "If you get too close to the car in front, you won't be able to react and stop in time if they suddenly brake.
https://www.caissedesecoles20.com/2022/08/12/ay1zbdt
"Tailgating makes the driver in front feel targeted and victimised, distracting their attention from the road ahead and making them more likely to make a mistake.
"It is intimidating and frightening if you're on the receiving end. If that leads to a collision, then people in both vehicles could end up seriously injured or killed. We want everyone to travel safely, so the advice is – stay safe, stay back."
https://www.stevehackman.net/czj6vnijs
https://www.canadiandachshundrescue.com/2022/08/12/v29dp4mr6pu